Implementation is key: Understanding and utilizing fixed-income and currency factors
Implementation is key: Understanding and utilizing fixed-income and currency factors
At the recent Invesco Asia Investment Lecture Series on Factor Investing, we looked at how understanding factors, including fixed-income and currency ones, correctly is key to implementing them.
Factor investing is not just limited to equities, and investors in Asia Pacific are more aware of that than their peers in other regions.

The 2018 Invesco Global Factor Investing Study found that 58% of respondents in Asia Pacific are sharpening their expertise in factor investing for multi-factor strategies, and also expanding that expertise in portfolio construction and fixed income – all at higher levels than in Europe and North America. At the same time, increasing returns and reducing risk ranked the top reasons for adopting factors in portfolios.

These findings were shared with clients at the 2019 Invesco Asia Investment Lecture Series on Factor Investing from June 11 to 13. Four investment experts from Invesco and Cambridge Judge Business School at the University of Cambridge shared how a better understanding factors can help them achieve better returns for investments, and also how they can ascertain if a factor has gone through enough testing for it to be useful.

But even as investors try to increase returns and reduce risk in their portfolios through factor investing, how should they go about doing it? Read on to find out key takeaways from the sessions.

"We think that understanding and having a perspective is helpful in evaluating potential strategies. How we identify factors, how we build portfolios… these are all different skill sets and expertise from other traditional pillars of investing." – Stephen Quance, Director of Factor Investing, Invesco.
Fixed income: "Implementation is key"



Fixed-income investors are using factors in their portfolios, regardless if they know it or not. Therefore, implementation is key to getting the most out of them, said speaker Jay Raol, Senior Macro Analyst for Invesco Fixed Income.

With a better understanding of how these factors work, investors can then drive returns in the way they want it to be, said Raol.

"A factor-based approach brings transparency – an understanding of what's going on at a lower cost." – Jay Raol, Senior Macro Analyst, Invesco Fixed Income.

For example, Raol, in a co-authored research, found that the carry factor provides high beta and attractive total returns. But due to its low Sharpe ratio, or its level of risk-adjusted return, someone who only analyses, or back-tests the quantitative aspect of factors, would not like to deploy the carry factor much. "They're actually not looking at how to implement factors," said Raol.

Here's how he suggests the main fixed-income factors can be properly harnessed:

Carry: Investors should think how different ways of accessing this factor can help. Participation in new issues is one way. When an issuer goes to market with new bonds, the issuer would need to issue them cheaply so that they're attractive. High-carry bonds tend to sell off in the lead up to the issue, and then rally thereafter. If investors do so to carry bonds, they can significantly add to returns.

Value: Unlike carry, this factor, which is a preference for bonds trading at cheaper than other bonds with comparable default rates and similar industries, is less correlated with equities. Value combines high beta with an attractive Sharpe ratio. But note that high-value portfolios have more risk that can be explained by their duration and credit spread exposures – they are risky in ways that are not immediately obvious. The implementation challenge for value, then, is knowing what risks one is adding to the portfolio.

Quality: This factor prefers buying lower risk bonds. It can also de-risk portfolios to protect against drawdowns. In a multi-factor setting, it hedges value very well. As such, an investor worried about the risks that value brings can combine the two factors together to get a portfolio of a risk level that he or she desires.

Liquidity: This factor prefers bonds that tend to have a higher yield, or the older and smaller bonds. One way investors can access this factor at a lower cost is to be value-oriented. This means waiting for the right time to buy illiquid bonds that are being sold at a cheap price. Doing so systematically would allow the investor to shift his or her portfolio to be exposed to liquidity.

Figure 1: Factors can be used to meaningfully shift the efficient frontier of portfolios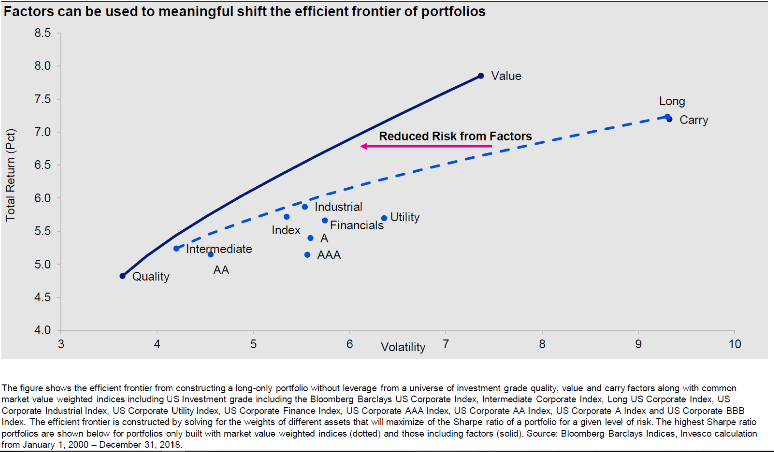 "You can immediately improve the risk/return profile of your portfolio using factors at any spectrum, with the caveat being if you know how to implement them. Factor investing is a permanent shift in the risk/return profile you can get out of your fixed-income portfolio." – Jay Raol, Senior Macro Analyst, Invesco Fixed Income

Currency factors: lessons from the past


When considering which factors to invest in, an important consideration is how robust is the empirical evidence on the performance of that factor in question. Any answer to this question needs to take advantage of as much historical data (of the requisite quality) as possible. Most of the evidence on currency factors are drawn from data over the past 30 or so years - a period when the performance of currencies was dominated by a single narrative: global convergence evidenced by a steady decline in global interest rates.
In extending research all the way back to 1919 based on a new data set of daily spot and forward quotes for the London foreign-exchange market, Dr David Chambers of Cambridge Judge Business School, who presented at the lecture series, discussed the findings from his study. The study, conducted with co-authors, was on the long-run evidence for the robustness of currency factors.

These factors include:
Carry: a strategy which is long high interest currencies and short low interest rate currencies;
Momentum: similar to equities, a strategy that longs currencies with high past excess returns (winners) and shorts currencies with low past returns (losers);
Value: it can be defined in a several ways, but here it is defined as the change in real exchange rates over a five-year period to capture the deviation from long-run purchasing-power parity. The strategy goes long cheaper currencies and shorts expensive ones on this measure.
And what did the long-run evidence say of currency factors show? Here's what Dr Chambers has to say:

Excess returns after transaction costs are positive for the Carry factor over the long-run. However, the Momentum factor (in developed-market currencies) produces only marginally positive excess returns over the long-run; and Value isn't profitable.
Beware of currency-regime shifts. Carry factors are negatively impacted by currency regimes, when there is a shift from a fixed to a floating regime. For example, when the Swiss National Bank dropped the Swiss franc's peg to the euro in January 2015, the carry trade lost 5% in the following month. On average, this finding holds across more than two hundred instances of currency peg collapses over the last century.
Diversification benefits: an analysis of currency factors over the long run suggests that they are able to diversify exposures to the equity risk premium (Global Equity) and the bond maturity premium (Global Bonds).
Figure 2: Currency factors offer diversification opportunities
Correlation of annual returns


Source: Accominotti, Cen, Chambers and Marsh, Currency Factors, June 2019
False factors: Be aware



Investment data is now easier to access and the tools used to analyse it have progressed dramatically. This combined with the growing financial incentives behind factor investing means that investors are increasingly presented with results that display impressive in-sample performance. Speaker Xavier Gerard, senior research analyst at Invesco Quantitative Strategies cautioned that investors should develop a healthy degree of skepticism: without careful statistical adjustments, appropriate cross-validation, or imposing realistic investment constraints, many of these results may just be too good to be true.

Here are some ways Gerard said can help investors spot poor data analysis:

Question multiple testing: The problem of data mining is becoming more acute today, resulting in the rise of many false factors that appear to work getting undue attention. Investors should scrutinize the basis for each factor. They should also look for a healthy and robust research environment, question what is it that incentivized the analysts to produce the research, and keep track of how many factors are being tested.
Be skeptical of over-complexity: This is because slight tweaks to a model can alter results. To avoid this, investors should scrutinize the rationale more, and ask how robust the results are to different signal constructions.
Don't be fooled by overfitting: This is perhaps the biggest problem facing investors today as they engage in multiple testing. In particular, investors should look out for combinations of vaguely-related or barely significant factors that are combined together into what looks like a strong predictor of future returns. These models often have the weights on factors chosen with some hindsight bias. To avoid this, investors must scrutinize the rationale for bundling weak signals together, ask for the full set of considered factors, question why plausible candidates are omitted, demand to see the individual statistical significance of each factor in the model, and that the significance of the combined factors is tested under a multivariate t-test (e.g. Hotelling's T-squared).
Beware the limits of out-sample testing: Though out-sample validation is the easiest way to rule out spurious factors, a true out-sample is hard to find. Experienced researchers know too well how the historical environment impacts the performance of their factors. Moreover, a typical problem is when a factor is researched in a country with a view of testing its robustness in a separate market, assuming that this provides a valid out-sample. Unfortunately, there are often significant cross-country correlations. To cut down the chances that a false factor is validated out-sample, investors should ask whether factor dynamics are different enough between markets. This way, the investor can obtain more information on the signal's predictive power.
Research environment versus reality: Investors should not impose unrealistic implementation constraints. They should keep an eye out for good results from research that does not take seriously into account liquidity restrictions, transaction costs or turnover constraints.

While Gerard argued that factor research has significantly improved our understanding of how the market works, and that factor investing constitutes an important pillar of modern investing, he also warned that there are now more financial incentives driving the growth of factor investing. Investors should display a healthy degree of skepticism when assessing these research results. Factor investing is here to stay, said Gerard, but it must be done right and investors must form realistic expectations.

"It all depends on what you're trying to achieve"

"With factor investing, there are key advantages that investors can do to improve investment outcomes." – Stephen Quance, Director of Factor Investing, Invesco.
Stephen Quance stressed at the lecture series that the investor's ultimate aim will determine the approach. "It depends on what you're trying to accomplish, and what your strengths are," he said. "So whether you're risk constrained or what you want to achieve with the portfolio… that will define how you allocate to the factors."

Ultimately, Quance views factors as a way to reduce the number of unexplained trends in returns. And in understanding factors better, an investor can harness them and improve the transparency of a portfolio. In this sense, factor investing is a true breakthrough in the way assets are managed.

Even as Asia-Pacific investors are keen to adopt factor investing in other aspects of their portfolios, adoption of this approach is still far lower than the other two pillars of investing. And this is what excites Quance: "In Asia, things can happen very quickly, and with factor investing, there are key advantages that investors can do to improve investment outcomes. This is why we're putting so much energy into help investors understand factor investing."

Related articles:
​Important information
This document has been prepared only for those persons to whom Invesco has provided it for informational purposes only. This document is not an offering of a financial product and is not intended for and should not be distributed to retail clients who are resident in jurisdiction where its distribution is not authorized or is unlawful. Circulation, disclosure, or dissemination of all or any part of this document to any person without the consent of Invesco is prohibited.
This document may contain statements that are not purely historical in nature but are "forward-looking statements", which are based on certain assumptions of future events. Forward-looking statements are based on information available on the date hereof, and Invesco does not assume any duty to update any forward-looking statement. Actual events may differ from those assumed. There can be no assurance that forward-looking statements, including any projected returns, will materialize or that actual market conditions and/or performance results will not be materially different or worse than those presented.
The information in this document has been prepared without taking into account any investor's investment objectives, financial situation or particular needs. Before acting on the information the investor should consider its appropriateness having regard to their investment objectives, financial situation and needs.
You should note that this information:
• may contain references to amounts which are not in local currencies;
• may contain financial information which is not prepared in accordance with the laws or practices of your country of residence;
• may not address risks associated with investment in foreign currency denominated investments; and
• does not address local tax issues.
All material presented is compiled from sources believed to be reliable and current, but accuracy cannot be guaranteed. Investment involves risk. Please review all financial material carefully before investing. The opinions expressed are based on current market conditions and are subject to change without notice. These opinions may differ from those of other Invesco investment professionals.
The distribution and offering of this document in certain jurisdictions may be restricted by law. Persons into whose possession this marketing material may come are required to inform themselves about and to comply with any relevant restrictions. This does not constitute an offer or solicitation by anyone in any jurisdiction in which such an offer is not authorised or to any person to whom it is unlawful to make such an offer or solicitation.