Europe vs US: A whole new ball game?
Europe vs US: A whole new ball game?
With speculation mounting that US President Trump might launch a trade war with the EU, Henley Investment Centre's European Equities Team looks at what that could look like, and explains why they believe this is materially different to the US-China situation.
Many had thought that the US-China trade negotiations were largely wrapped up. That is until Donald Trump tweeted on 5th May that a tariff rise was back on the cards. Following the news, stock markets across the globe tumbled as fears of a full-blown trade war between the world's two largest economies were rekindled.
Speculation has been mounting that once President Trump concludes trade negotiations with China, Europe will be next on his agenda. Below, we look at what a potential US-EU trade war could look like and explain why we believe this is materially different to the US-China situation.

US vs EU: Even playing field?
Firstly, it is worth noting that trade between the US and the EU forms the largest bilateral trade flow in the world, with US exports to and imports from the EU in 2018 estimated at $570bn and $670bn respectively. To put this into perspective, US exports to China are worth about 0.5% of US GDP, while US exports to the EU are worth about 1.55% of US GDP. As a result, reciprocal action taken by the EU to sanctions imposed by the US has the potential for wider impact than action taken by China – arguably up to 3x as much.

Figure 1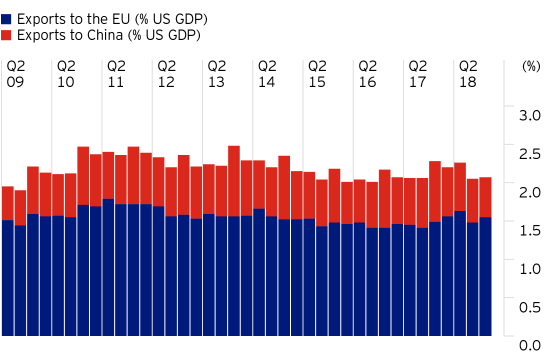 Source: Credit Suisse, Thomson Reuters Datastream, as at 31st Dec 2018

Secondly, there is weaker US political support for a trade war with the EU. 'China bashing' in the US has long been a vote winner for both Democrats and Republicans, whilst a trade war with the EU is unlikely to garner the same political support. Given many European companies are employers of US workers, some of whom operate in key pro-Trump states (e.g. BMW in South Carolina and Daimler in Alabama), it would be a very risky strategy for Trump to potentially put jobs (and votes) on the line in order to engage in a trade war with the EU, especially as he gears up for a 2020 re-election bid.

What goods will be targeted by the US?
The US trade deficit with the EU is about 0.8% of US GDP for all goods, considerably less than China's 2%. However, a closer look indicates the largest trade imbalance occurs in one area: the auto sector. Auto-related goods (cars, parts, tyres) are approximately 15% of the EU's exports into the US, and only 5% of US's exports into the EU. In 2018 alone, this imbalance was roughly equivalent to $45bn dollars in favour of the EU. This is where US leverage is the greatest, and in our opinion, would be Trump's likely target.

Figure 2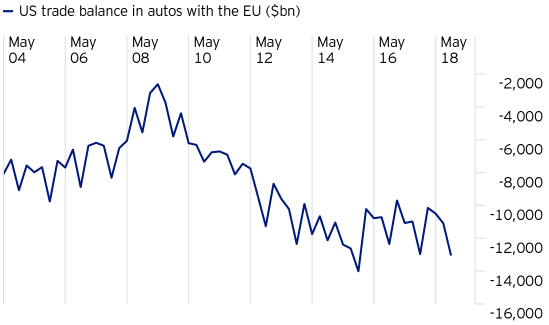 Source: Credit Suisse, Thomson Reuters Datastream, as at 15th Nov 2018

How can the EU respond?
We already have some idea of the type of reciprocal actions the EU would take against further tariffs imposed by the US. Last year, following Trump's steel and aluminium tariffs, the EU published a comprehensive list of goods where tariffs would be introduced or increased. Targeted US products include Harley-Davidson motorcycles, agricultural goods, bourbon, blue jeans, steel and aluminium. The EU response to the sanctions imposed by Trump appears to be highly strategic, targeting products from swing-states and, in effect, taking direct aim at Trump and his re-election campaign. An escalation in tariffs by the US will likely see the EU amplify their own efforts accordingly.

Where does this leave us today?
Whilst the issue will continue to hang over investors' heads until there is a formal conclusion, a trade war similar to what we are witnessing between the US and China seems unlikely. Furthermore, the timing alone means that an easing of rhetoric is likely as Trump prepares for a second-term campaign. Nevertheless, in a world of Trump, we believe there is plenty of scope for a barrage of tweeting to cause some market volatility in the short-term.

Related articles
Important information
This document has been prepared only for those persons to whom Invesco has provided it for informational purposes only. This document is not an offering of a financial product and is not intended for and should not be distributed to retail clients who are resident in jurisdiction where its distribution is not authorized or is unlawful. Circulation, disclosure, or dissemination of all or any part of this document to any person without the consent of Invesco is prohibited.
This document may contain statements that are not purely historical in nature but are "forward-looking statements", which are based on certain assumptions of future events. Forward-looking statements are based on information available on the date hereof, and Invesco does not assume any duty to update any forward-looking statement. Actual events may differ from those assumed. There can be no assurance that forward-looking statements, including any projected returns, will materialize or that actual market conditions and/or performance results will not be materially different or worse than those presented.
The information in this document has been prepared without taking into account any investor's investment objectives, financial situation or particular needs. Before acting on the information the investor should consider its appropriateness having regard to their investment objectives, financial situation and needs.
You should note that this information:
• may contain references to amounts which are not in local currencies;
• may contain financial information which is not prepared in accordance with the laws or practices of your country of residence;
• may not address risks associated with investment in foreign currency denominated investments; and
• does not address local tax issues.
All material presented is compiled from sources believed to be reliable and current, but accuracy cannot be guaranteed. Investment involves risk. Please review all financial material carefully before investing. The opinions expressed are based on current market conditions and are subject to change without notice. These opinions may differ from those of other Invesco investment professionals.
The distribution and offering of this document in certain jurisdictions may be restricted by law. Persons into whose possession this marketing material may come are required to inform themselves about and to comply with any relevant restrictions. This does not constitute an offer or solicitation by anyone in any jurisdiction in which such an offer is not authorised or to any person to whom it is unlawful to make such an offer or solicitation.