Capital market assumption: China A Share methodology
Capital market assumption: China A Share methodology
A look at how Invesco analyzes and constructs long-term asset class forecasts for China A shares.


Key takeaways

• We are convinced that Chinese equity markets will become more efficient overtime and will present ample opportunities.
• An analytical framework on how we view China A shares is the foundation for developing outcome-oriented allocations with regards to the asset class.
• Based on our research and understanding of China, we explain how we formulate our capital market assumption for China A shares.

The inclusion of China's A shares into global equity indices is stoking offshore asset owners' interest in the market. Representing of almost 4,000 China-based firms that trade their shares on the Shanghai Stock Exchange (SSE) and the Shenzhen Stock Exchange (SZSE), A shares offer foreign investors a deep universe to explore. The asset class's lower correlation with other major developed and emerging markets may also bring diversification benefits to portfolios.

At Invesco, we are convinced that Chinese equity markets will become more efficient over time, and in the meantime present ample opportunities. This is because we expect the Chinese economy to continue its transition towards highquality growth. We also believe market structure will improve, ensuring that more efficient and appealing companies join and excel within the A share universe.

An analytical framework on A shares is crucial in how we view and think about the asset class, and the role it plays in portfolios. At Invesco, this framework, or capital market assumption, is the foundation for developing outcome-oriented, multi-asset allocations.

In this white paper we will discuss how we form our long-term capital market assumption for China A shares over a 10-year time horizon. This research mainly focuses on the China A large-cap market, with the CSI 300 index – consisting 300 large-cap stocks in the A share universe – as the proxy index.

Methodology overview

Our China A share long-term capital market assumption is consistent with our research for other major assets: we employ a "building block" based methodology to estimate asset class returns for China A shares. Building blocks represent a "bottomup" approach in which the underlying drivers of asset class returns are used to form estimates, with estimated return being divided into income and capital appreciation components.

Our extensive research on China A shares has prompted us to:
— estimate income component with level of yield;
— look to other sources as the basis of our model on capital appreciation, and;
— incorporate macroeconomic data from multiple inputs to calculate valuation change.


Share buybacks and special dividends are not common in China. As such, the level of yield in the China A share market is mainly driven by dividend yield. We measure dividend yield – our income level for China A shares – using trailing 12 months' dividend. The historical dividend level for the CSI 300 index has mostly stayed between 1% to 2.5%.





Earnings growth is one of the two significant drivers in capital appreciation. We estimate earnings growth using growth in real GDP per capita adjusted for future inflation expectations. We use real GDP per capita growth – instead of actual historical data of earnings per share growth – because real GDP per capita growth is highly correlated with real earnings growth in the long term. It provides much a more stable and less volatile time series, which is ideal for our analysis.

When estimating the real GDP per capita growth for many developed economies, we use the long-term average as we believe that the expected growth levels of developed economies are less likely to deviate significantly from their long-term average growth. However, we find that this assumption is hard to apply to China, because the country has experienced double-digit or high single-digit (nominal) GDP per capita growth in most of the years since 1978 when it decided to embark on market reforms.

In order to formulate our expectations for China for the next ten years, we had to look to other sources of data to adjust our expectations. For Asian economies such as Japan and Korea, the real GDP per capita growth slowed down after GDP (PPP) per capita reached US$15,000.

Based on Organisation for Economic Cooperation and Development (OECD) data, China's GDP (PPP) per capita reached US$15,000 in 2017. This helped us adjust the real GDP per capita growth for China taking into consideration of the growth patterns in other Asian economies, to better align with the growth expectation for China for the next 10 years.

Valuation change is our second driver in capital appreciation. It is reflected by the changes in the price-to-earnings (P/E) or price-to-book (P/B) ratios.

In many emerging markets, P/B ratio is a preferred measurement over P/E ratio for valuation, as P/B ratio is in general more stable than P/E ratio. Our research, consistent with academic literature, indicates that valuation has the tendency to revert back to its long-term mean, after adjusting for prevailing macroeconomic conditions. If the current valuation is more expensive than the adjusted long-term mean, then the valuation change component will be negative, annualized over the 10-year time horizon, in order to reflect its mean-reverting characteristics.

One of the key questions is to find out which macroeconomic variables have a big impact in valuations for the China A share market. Our research shows that for developed economies such as the US, inflation and interest rates are key in determining valuations, while for export-oriented economies such as Korea and Taiwan, foreign exchange plays an important role in valuation as well.

China is a large emerging economy that is substantially influenced by economic policies, and is not as dependent on exports as some other smaller economies in Asia. We found that valuation change in the China A share market, represented by the P/B ratio of the CSI 300 index, is well-explained by two macro factors – total social financing (aggregate volume of funds provided by China's domestic financial system to the private sector of the real economy within a given time frame) and inflation.

We also find that while money supply (M2) growth has significant explanatory power in explaining valuation change for the China A share market, this metric has 94% correlation with total social financing growth. As such, we decided to exclude it from our model in order to avoid multicollinearity issues. Chart 1 below shows the correlation between China A share market's valuation and different macro factors.

Source: Bloomberg, WIND. Correlation data shown for 14 years ending June 30, 2019. Past performance is not a guarantee of future results.

Conclusion

Based on our current expectations (refer to Appendix), we find that China A shares remain attractive when compared to other asset classes. However, we stress that this premium should narrow going forward – as China's economy evolves to be a more developed, market-driven and robust, the China onshore market's correlation with the rest of the world is likely to increase.

Appendix



Yield: Based on June 30, 2019 data, the dividend yield is 2.15% – near the upper end of the historical range.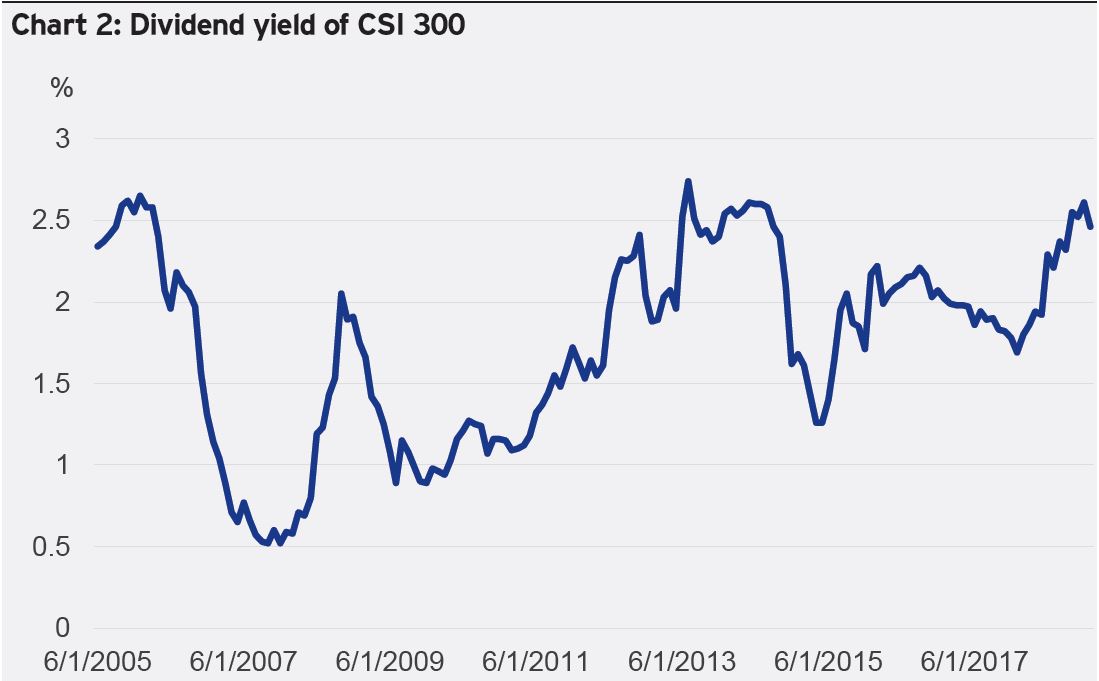 Source: Bloomberg, data as of June 28, 2019.

Earnings growth: We adjust historical average growth by looking at the average decline other Asian economies faced at US$15,000 GDP (PPP) per capita. This means that we deduct 2.9% from the 10-year average real GDP (PPP) per capita growth of 7.4%, resulting in expected real earnings growth of 4.5%. This in turn gives us expected nominal earnings growth of 7.5% in Chinese renminbi terms.

Valuation change: After adjusting for total social financing growth and inflation, valuation change component contributes -0.27% to our long-term return expectations based on June 2019 data, indicating that the China A large-cap market is slightly overvalued.

Adding all three components above up, the 10-year China A shares CMA is 9.4% in renminbi terms as of June 30, 2019, or 8.1% in USD terms after adjusting for interest rate parity.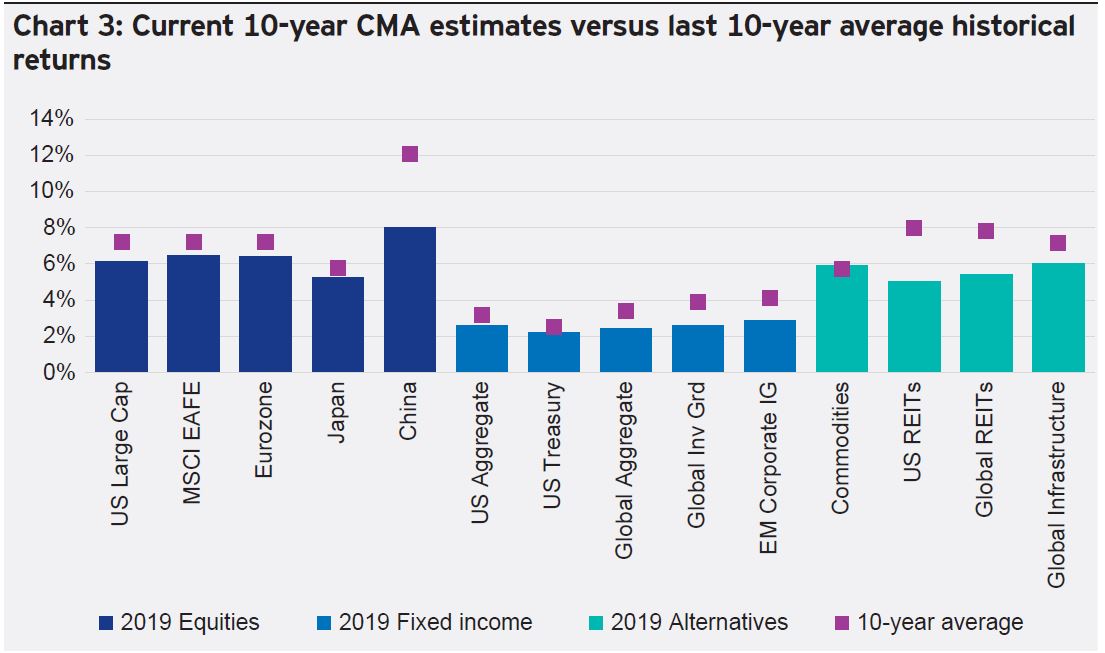 Source: Invesco, current return data as of June 30, 2019; 10 year average data using monthly geometric return assumptions from June 30, 2009 – June 30, 2019. Data is unhedged USD. US Large Cap Equity is represented by the S&P 500 Index; MSCI EAFE by the MSCI EAFE Index; Eurozone by the MSCI Euro X UK Index; Japan by MSCI JP Index; China by CSI 300 Index; US Aggregate by Bloomberg Barclays US Aggregate Index; US Treasury by Bloomberg Barclays US Treasury Index; Global Aggregate by Bloomberg Barclays Global Aggregate Index; Global Inv Grd by Bloomberg Barclays Global Corporate Investment Grade Index; EM Corporate IG by Bloomberg Barclays EM USD Agg-Corp-IG Index; Commodities by S&P GSCI Index; US REITs by FTSE NAREIT Equity Index; Global REITs by FTSE EPRA/NAREIT Developed Index; Global Infrastructure by S&P Global Infrastructure Index. These estimates are based on our capital market assumptions which are forward looking, are not guarantees, and they involve risks, uncertainties and assumptions. Please see the next page for additional CMA disclosure.


Chang Hwan Sung is Director for Solutions Research at Invesco in Asia Pacific.
Related articles

Important Information
This document has been prepared only for those persons to whom Invesco has provided it for informational purposes only. This document is not an offering of a financial product and is not intended for and should not be distributed to retail clients who are resident in jurisdiction where its distribution is not authorized or is unlawful.. Circulation, disclosure, or dissemination of all or any part of this document to any person without the consent of Invesco is prohibited.
This document may contain statements that are not purely historical in nature but are "forward-looking statements," which are based on certain assumptions of future events. Forward-looking statements are based on information available on the date hereof, and Invesco does not assume any duty to update any forward-looking statement. Actual events may differ from those assumed. There can be no assurance that forward-looking statements, including any projected returns, will materialize or that actual market conditions and/or performance results will not be materially different or worse than those presented.
The information in this document has been prepared without taking into account any investor's investment objectives, financial situation or particular needs. Before acting on the information the investor should consider its appropriateness having regard to their investment objectives, financial situation and needs.
You should note that this information:
may contain references to amounts which are not in local currencies;

may contain financial information which is not prepared in accordance with the laws or practices of your country of residence;

may not address risks associated with investment in foreign currency denominated investments; and

does not address local tax issues.
All material presented is compiled from sources believed to be reliable and current, but accuracy cannot be guaranteed. Investment involves risk. Please review all financial material carefully before investing. The opinions expressed are based on current market conditions and are subject to change without notice. These opinions may differ from those of other Invesco investment professionals.
The distribution and offering of this document in certain jurisdictions may be restricted by law. Persons into whose possession this marketing material may come are required to inform themselves about and to comply with any relevant restrictions. This does not constitute an offer or solicitation by anyone in any jurisdiction in which such an offer is not authorised or to any person to whom it is unlawful to make such an offer or solicitation.